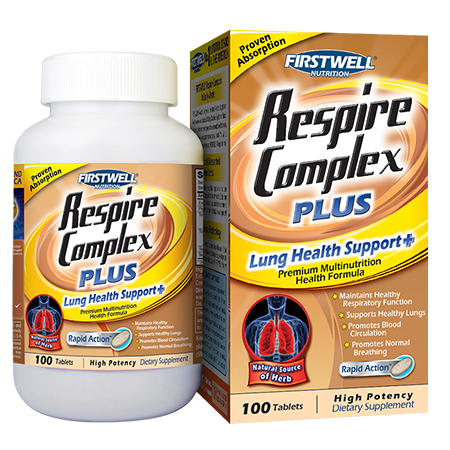 清肺寶 (Respire Complex) 100's
HK$350.00

HK$350.00

Save HK$38
---
---
產品編號: F5221
成份: 杏仁提取物,枸杞提取物,百合芽提取物,手指柚子提取物,糖,葡萄糖一水合物,玉米澱粉,甜味劑(420),穩定劑(1400),預膠化澱粉,乳化劑

規格: 1000mg/片 X 100片
產品描述
肺是我們人體其中一個最重要及勤快的器官。肺吸進氧氣,呼出二氧化碳,負責體內氣體的交換及進行新陳代謝。現代工業及交通的迅速發展導致大量的有害氣體和煙塵被排放,導致空氣嚴重被污染。空氣素質的降低危害人體的肺部、呼吸系統並導致眼鼻等黏膜組織受到外在刺激。Firstwell清肺寶中含有天然的百合、杏仁、佛手、羅漢果提取物對保護肺部及舒緩眼鼻喉受到大氣污染刺激有極大的幫助。百合、杏仁、佛手、羅漢果更是養生補肺不可少缺少的優良食材。Firstwell清肺寶供身處在現代工業社會,關注肺部及呼吸道健康人士服用。   
建議使用 
以兩片作為膳食補充劑,或遵醫囑。
儲存在乾燥的地方,低於30˚C(86˚F),避免曝露在陽光下。避免兒童接觸。

---
Product Code: F5221
Ingredients: Almond Extract, Fructus Momordicae Extract, Lily Buds  Extract, Fingered Citron Extract, Sugar, Dextrose Monohydrate, Cornstarch, Sweetener (420), Stabilizer (1400), Pregelatinized Starch, Emulsifier (470)
Specification: 1000mg/Tablet x 100Tablets
Product Description
Our lungs are one of the hardest-working organs in the body. In industrialized countries where the air is filled with chemicals, pollutants, dust, pollen, bacteria and viruses, our respiratory system is often compromised and discomfort is commonly felt. Firstwell Respire Complex is formulated to maintain healthy lungs and smoothen discomfort of throat, eyes and nose.
Firstwell® Respire Complex supports the trigger of a healthy inflammatory response and enhances immunity. Respire Complex enhances blood flow and circulation.
Firstwell® Respire Complex helps relieve discomfort in eyes, nose and throat when subjected to external pollution.
Firstwell® Respire Complex is freshly harvested from natural herbs. Our unique ultra pressurised extraction process ensures that only the highest quality herbs are delivered in their most natural states.

Recommended Serving
Take two Tablets with meal as a dietary supplement, or as directed by your physician. 
Store in a cool and dry place. Avoid exposure to sunlight. Keep out of children's reach.