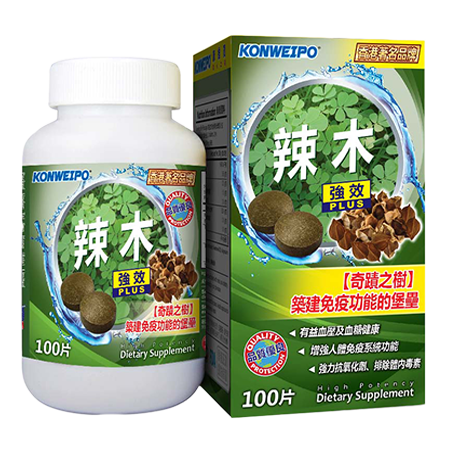 辣木 (Moringa Oleifera) 100's
HK$341.00

HK$341.00

Save HK$37
---
---
產品編號: KB263
成份: 辣木葉粉,甜味劑(420),硬脂酸鎂
规格: 500mg/片 X 100片
產品描述
辣木-原產於印度,被當地人稱為「奇蹟之樹」,是富含人體所需多種營養素的植物,更是極佳的營養補充食品。辣木不但有著旺盛的生命力,而且整棵植物-葉子、樹皮、花、果實、種子和根,都有著極高的維他命、礦物質和蛋白質。辣木有益於促進血液循,改善營養及維持免疫健康。辣木也有抗氧化功能,有益於維持身體的基本機能。辣木可維持關節的穩定度、靈活及活動度。辣木也有助於支持健康的血糖和健康的血脂。辣木是大自然贈給忙碌都市人維繫健康的非凡禮品。
建議使用 
以兩片作為膳食補充劑,或遵醫囑。
儲存在乾燥的地方,低於30˚C(86˚F),避免曝露在陽光下。避免兒童接觸。
---
Product Code: KB263
Ingredients: Moringa Leaf Powder, Sweetener(420), Magnesium Stearate
Specification: 500mg/tablet x 100tablets
Product Description
Hailing from India, Moringa Oleifera, the miracle plant, is abundant in essential nutrients and is highly regarded as a potent health supplement. Its resilient nature is a testament to its health-giving properties. All parts of this miracle plant, as of its leaves, bark, flowers, fruits, seeds and roots, are packed with vitamins, minerals and proteins that support circulatory and immunity health. The Moringa Oleifera also contains powerful antioxidants that support normal functions of the body. It is also beneficial to joint health by maintaining flexibility and stability of joints. The Moringa Oleifera may also help to support healthy blood sugar and healthy blood lipids. The Moringa Oleifera is regarded as an extraordinary gift from nature that sustains health and complete wellbeing.

Recommended Serving
Take two tablets with meal as a dietary supplement, or as directed by your physician. 
Store in a cool and dry place. Avoid exposure to sunlight. Keep out of children's reach.