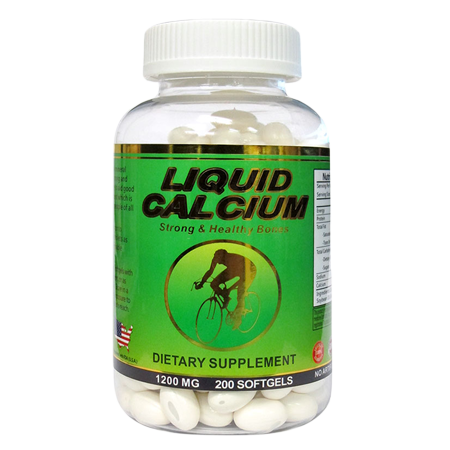 液體鈣 (Liquid Calcium) 200's
HK$206.00

HK$206.00

Save HK$22
---
---
產品編號: OWF155
成份: 碳酸鈣,蜂蠟,大豆油,明膠,純化水,纖維素,玉米澱粉,二氧化鈦,聚乙二醇,甘油,硬脂酸鎂
規格: 1200mg/粒 X 200粒
產品描述
鈣在維持骨骼與牙齒健康起著重要的作用。在體內的鈣,99%都集中在骨骼與牙齒裡。鈣維持骨骼正常的支撑功能以保護重要器官及提供肌肉的固定點。鈣也維持肌肉收縮放鬆功能與神經系統的健康。然而體內的鈣卻每日透過指甲、頭髮與汗水漸漸的流失。由於身體不能自我合成鈣質,人體必須從食物中攝取鈣質。現代繁忙的都市人經常食用速食餐,令身體無法攝取足夠的鈣質。KonWeiPo 液體鈣能迅速補充每日人體所需的鈣質,強健牙齒與骨骼,維持人體機能正常與健康。
建議使用 
以兩粒作為膳食補充劑,或遵醫囑。
儲存在乾燥的地方,低於30˚C(86˚F),避免曝露在陽光下。避免兒童接觸。
---
Product Code: OWF155
Ingredients: Calcium Carbonate, Beeswax, Soybean Oil, Gelatin, Purified Water, Cellulose, Cornstarch, Titanium Dioxide, Polyethylene Glycol, Glycerol, Magnesium Stearate
Specification: 1200mg/softgel x 200softgels
Product Description
Calcium plays a major role in the development for building strong bones and teeth. 99% of all calcium present in the body can be found in the bones and teeth. Calcium maintains the bone structure that frames the muscles and protects vital organs. In addition to supporting bone and dental health, calcium also plays an integral role in muscle contraction and relaxation and the sending of messages between our nerves. However calcium is loss daily through our nails, hair and sweat and our body cannot produce its own calcium. We are therefore reliant on daily intake from food to maintain adequate levels of calcium in our bodies. The modern life of unbalanced diets and hectic schedules affect the amount of calcium we consume. KonWeiPo Liquid Calcium is specifically formulated to meet your daily calcium needs for strong and healthy bones and teeth and overall wellbeing. 

Recommended Serving
Take two softgels with meal as a dietary supplement, or as directed by your physician. 
Store in a cool and dry place. Avoid exposure to sunlight. Keep out of children's reach.