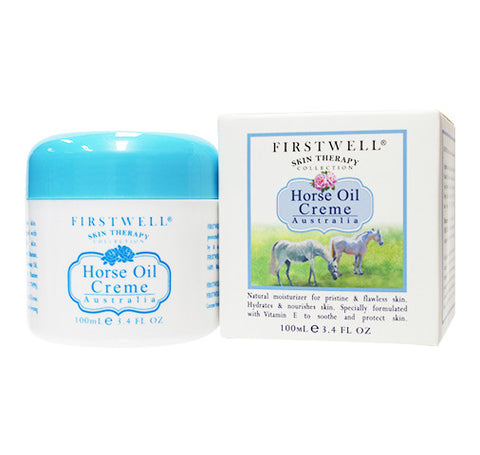 馬油 (Horse Oil Creme) 100ml
HK$81.00

HK$81.00

Save HK$9
---
---
產品編號: F5702
成份: 凡士林,馬油,棕櫚酸異丙酯,石蠟,(蠟大戟)蠟,野生大豆(黃豆)油,生育酚(維生素E),尼泊金丙酯,維生素A棕櫚酸酯[+/ - :二氧化鈦(CI77891),氧化鐵(CI77491,CI77492,CI77499)

規格: 100 ml
產品描述
馬油是採用天然方法提煉,能令皮膚回復彈性光澤。天然的馬油潤而不膩,高度滋潤保濕,能直接用於臉上,減少幼紋、皺紋,淡化色斑、改善面黃等問題。馬油也能塗抹在頭上,加速頭髮毛囊的新陳代謝,促使頭髮生長,令頭髮更光滑柔順。
建議使用 
儲存在乾燥的地方,低於30˚C(86˚F),避免曝露在陽光下。避免兒童接觸。

---
Product Code: F5702
Ingredients: Petroleum,  Hydrogenated Horse Oil, Isopropyl Palmitate, Paraffin, Euphorbia Cerifera (Candelilla) Wax, Glycine Soja (Soybean Oil), Tocopherol (Vitamin E), Propylparaben, Retinyl Palmitate [+/-:Titanium Dioxide (CI77891), Iron Oxides (CI77491, CI77492, CI77499)]
Specification: 100 ml
Product Description
Horse Oil creme is natural moisturiser that does not leave an oily sensation on the skin. It enhances skin firmness and elasticity and reduces wrinkles and sagging skin, giving the skin a healthy and glowing complexion.

Applied to the scalp, Horse Oil increases metabolism of the hair follicles thus enhancing hair growth. It enriches and results in smooth, glowing and healthy hair.
Recommended Serving
Store in a cool and dry place. Avoid exposure to sunlight. Keep out of children's reach.