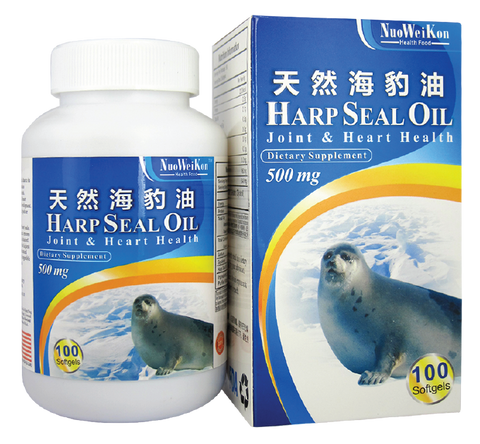 天然海豹油 (Harp Seal Oil) 100's
HK$243.00

HK$243.00

Save HK$27
---
---
產品編號: NB024
成份: 海豹油,大豆油,明膠,甘油,純淨水
规格: 500mg/粒 X 100粒
產品描述
海豹油有效改善大腦功能,增強記憶力,學習能力。它具有活化功能,能向身體供應大量的氧氣,促進血液循環,機體活力,減輕肌肉僵硬,不適。它
增強人體的免疫機能和排毒功能。海豹油保護皮膚,補充膠原蛋白和水份,防止形成皺紋。此產品供關注血壓,血糖,血脂/膽固醇的人士服用。此產品是一種天然優良保健品。
建議使用 
以兩粒作為膳食補充劑,或遵醫囑。
儲存在乾燥的地方,低於30˚C(86˚F),避免曝露在陽光下。避免兒童接觸。
---
Product Code: NB024
Ingredients: Harp Seal Oil, Soybean Oil, Gelatin, Glycerol, Purified Water
Specification: 500mg/softgel x 100softgels
Product Description
Harp Seal Oil contains Omega-3 fatty acids and other essential nutrients. These are beneficial for heart health, memory, concentration, blood circulation, growth and development. This product is intended for people concerned about blood pressure, blood sugar, blood lipids / cholesterol. Harp Seal Oil is long trusted as a nutraceutical due to its numerous health benefits.
Harp Seal Oil is freshly harvested from the finest seals. Our unique ultra pressurised extraction process ensures that only the best and purest Harp Seal Oil is obtained. Meticulous care is taken to ensure that only the highest quality Harp Seal Oil is delivered in its most natural state. Harp Seal Oil is sealed within an easily ingestible and absorbable form for maximum goodness.

Recommended Serving
Take two softgels with meal as a dietary supplement, or as directed by your physician. 
Store in a cool and dry place. Avoid exposure to sunlight. Keep out of children's reach.