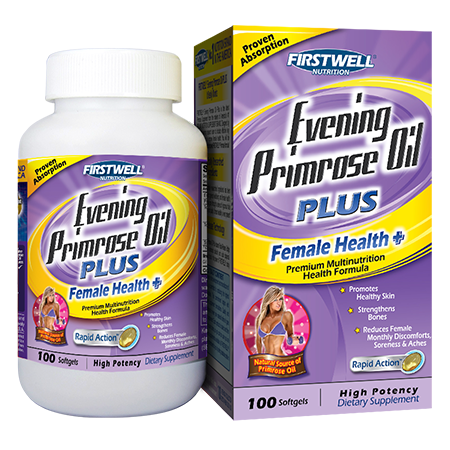 月見草油 (Evening Primrose Oil) 100's
HK$351.00

HK$351.00

Save HK$39
---
---
產品編號: F5271
成份: 月見草油,大豆油,明膠,甘油,純淨水

規格: 500mg/粒 X 100粒
產品描述
月見草油有效改善婦女身體多種不適,減輕婦女的週期性緊張、煩躁不安、焦慮、燥紅燥熱、經痛、頭痛等,可被譽為《婦女週期的恩物》。臨床証明月見草針對婦女不適起著有效的作用,它能使身體功能正常,增強體力,促進血液循。月見草能幫助滋潤皮膚,減輕皮膚乾燥,淡化皺紋,促進皮膚健康,增進皮膚的彈性與緊實度,達至美肌的效。它能維持骨骼的健康,趕走疲累身。月見草油屬天然有效成份,容易被人所體吸收,迅速補充身體所需要的營。此產品是一種天然優良保健產。
建議使用 
以兩粒作為膳食補充劑,或遵醫囑。
儲存在乾燥的地方,低於30˚C(86˚F),避免曝露在陽光下。避免兒童接觸。
---
Product Code: F5271
Ingredients: Evening Primrose Oil, Soybean Oil, Gelatin, Glycerol, Purified Water
Specification: 500mg/Softgel x 100Softgels
Product Description
Firstwell® Evening Primrose Oil is a long-trusted nutraceutical due to its numerous health benefits. It has been shown to improve women's general wellbeing as it reduces monthly discomforts such as hot flashes, soreness, and cramps.
Firstwell® Evening Primrose Oil also improves skin conditions by reducing pimples and rejuvanating the skin.
Firstwell® Everning Primrose Oil is freshly harvested from the finest. Evening Primrose seed. Our unique ultra-pressurised extraction process ensures only the best and purest Evening Primrose Oil is obtained.
Meticulous care is taken to ensure that only the highest quality Evening Primrose Oil is delivered in its most natural state .
Firstwell® Evening Primrose Oil is sealed within an easily ingestible and absorbable form for maximum goodness.


Recommended Serving
Take two Softgels with meal as a dietary supplement, or as directed by your physician. 
Store in a cool and dry place. Avoid exposure to sunlight. Keep out of children's reach.