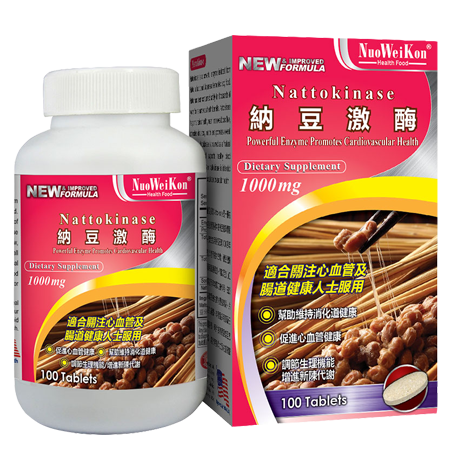 納豆激酶 (Nattokinase) 100's
HK$260.00

HK$260.00

Save HK$28
---
---
產品編號: NB063 
成份: 納豆激酶提取物,大豆蛋白粉,一水葡萄糖,燕麥粉,玉米澱
粉,穩定劑(1400),乳化劑(470),色素(150a, 160a(i))
規格: 1000mg/粒 X 100粒
產品描述
納豆是日本的傳統食品,納豆激酶Nattokinase是一種枯草桿菌蛋白激酶,是在納豆發酵過程中由納豆枯草桿菌產生的一種蛋白酶。日本人安全食用納豆已有1000多年的歷史,也發現納豆激酶對人體有很大益處。納豆激酶能改善血液循環,有助保護及暢通腸道,有助促進心血管健康,而且對支援血管暢通有非常強力的作用。由於納豆的氣味特殊,對於無法接受的大眾消費者來說,片裝納豆激酶濃縮萃取是最佳的選擇。本產品採用頂級日本納豆精製,納豆激酶含量特高。新片裝容易吞噬且方便攜帶,隨時隨地都可攝取。適合素食人士及注重健康的繁忙都市人食用。
建議使用 
以兩片作為膳食補充劑,或遵醫囑。
儲存在乾燥的地方,低於30˚C(86˚F),避免曝露在陽光下。避免兒童接觸。
---
Product Code: NB063
Ingredients: Nattokinase Extract, Soy Protein Powder, Dextrose Monohydrate, Oatmeal Powder, Corn Starch, Stabilizer(1400), Emulsifier(470), Colour(150a, 160a(i))
Specification: 1000mg/tablet x 100tablets
Product Description
Nattokinase is a powerful enzyme isolated from Natto, a traditional Japanese fermented soy food. Natto has been consumed safely for thousands of years for its numerous health benefits. Nattokinase helps maintain a healthy heart, boosts blood flow, promotes circulatory health and improve elasticity of the blood vessels. It is the ideal supplement for supporting overall cardiovascular health. NuoWeiKon Nattokinase is intended for people concerned about cardiovascular health.

Recommended Serving
Take two tablets daily with meal as a dietary supplement, or as directed by your physician. 
Store in a cool and dry place. Avoid exposure to sunlight. Keep out of children's reach.