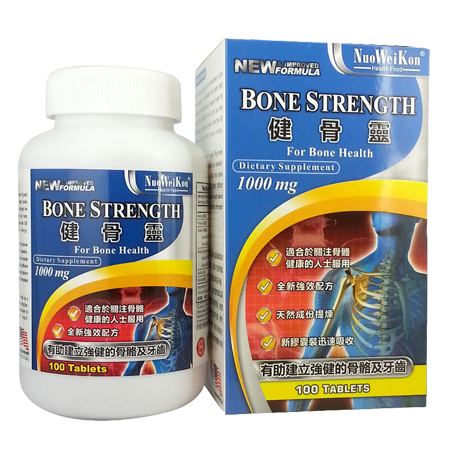 健骨靈 (Bone Strength) 100's
HK$206.00

HK$206.00

Save HK$22
---
---
產品編號: NB059 
成份: 碳酸钙,白砂糖,葡萄糖,檸檬酸,硬脂酸镁
靚格: 1000mg/粒 X 100粒
產品描述
鈣是維護骨骼健康的主要營養素。在體內,98%的鈣集中在骨骼與牙齒,因此保持健康的骨骼與牙齒在於攝取足夠的鈣。鈣也在維持肌肉收縮和舒張功能有著重要的角色,是神經興奮和肌肉收縮之間耦聯因子。雖然大多數的人知道鈣的重要性,但是只有少部分的人在飲食中攝取足夠的鈣質。健骨靈是為現代人配製而成的每日鈣質補充劑,有助維持骨骼、牙齒與肌肉健康。此產品適合營養不均勻或關注骨骼健康人士。
建議使用 
以兩片作為膳食補充劑,或遵醫囑。
儲存在乾燥的地方,低於30˚C(86˚F),避免曝露在陽光下。避免兒童接觸。

---
Product Code: NB059
Ingredients: Calcium Carbonate, White Sugar, Glucose, Citric Acid, Magnesium Stearate
Specification: 1000mg/tablet x 100 Tablets
Product Description
Calcium plays a major role in the development of good bone and teeth. It also maintains other healthy bodily functions and the transmission of messages through the nerves. BONE STRENGTH is a vital support for healthy bones and teeth.
Calcium is also necessary for muscle function. It plays a cruicial part in muscle contraction and relaxation. Though most understand the importance obtaining sufficient calcium, only a small minority get enough calcium in their diet. BONE STRENGTH is specially formulated to meet your daily calcium needs.

Recommended Serving
Take two tablets with meal as a dietary supplement, or as directed by your physician. 
Store in a cool and dry place. Avoid exposure to sunlight. Keep out of children's reach.