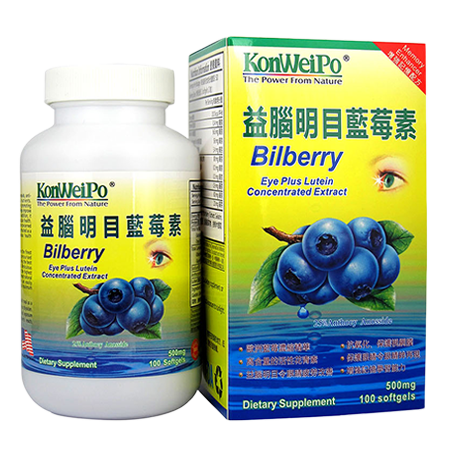 益腦明目藍莓素 (Bilberry) 100's
HK$281.00

HK$281.00

Save HK$31
---
---
產品編號: KB076
成份: 蓝莓,蜂蠟,大豆油,明膠,甘油,純化水,色素(171,172(i))
规格: 500mg/粒 X 100粒
產品描述
藍莓能保護眼睛和改善視力。它促進眼睛內的血液循環,適合近視、遠視、散光、老花、視力差的人士服用。藍莓特別適合長期面對計算機的人士。第二次世界大戰時,英國皇家飛行員,會食用藍莓以增強視力。藍莓能益智補腦,增強記憶力。它提升免疫力,幫助排毒。藍莓含抗氧成份,有益肌膚健康,減輕皺紋,皮膚鬆弛下垂和眼袋,防止肌膚水份流失。此產品供關注血糖的人士服用。
建議使用 
以兩粒作為膳食補充劑,或遵醫囑。
儲存在乾燥的地方,低於30˚C(86˚F),避免曝露在陽光下。避免兒童接觸。

---
Product Code: KB076
Ingredients: Bilberry, Beeswax, Soybean Oil, Gelatin, Glycerol, Purified Water, Colour(171, 172(i)) 
Specification: 500mg/softgel x 100softgels
Product Description
Bilberry is a good source of flavonoids, anti-oxidants and other essential nutrients. Bilberry improves eye health by promoting good blood circulation. Thus, it helps improve vision and reduce eye strain. In addition, it helps to maintain good cardiovascular health. This product is intended for people concerned about blood sugar. Bilberry is long trusted as a nutraceutical due to its numerous health benefits.

Bilberry is freshly harvested from the finest bilberries. Our unique ultra pressurised extraction process ensures that only the best and purest Bilberry is obtained. Meticulous care is taken to ensure that only the highest quality Bilberry is delivered in its most natural state. Bilberry is sealed within an easily ingestible and absorbable form for maximum goodness.

Recommended Serving
Take two softgels with meal as a dietary supplement, or as directed by your physician. 
Store in a cool and dry place. Avoid exposure to sunlight. Keep out of children's reach.