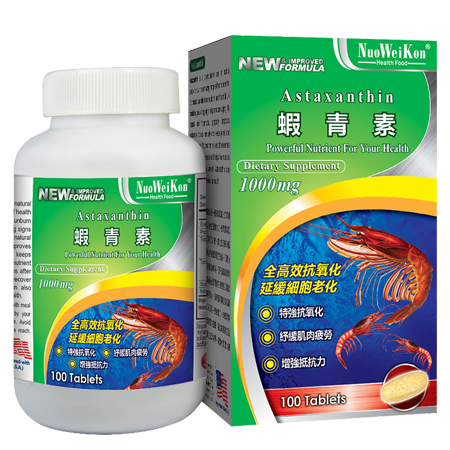 蝦青素 (Astaxanthin) 100's
HK$260.00

HK$260.00

Save HK$28
---
---
產品編號: NB062 
成份: 成份:蝦青素,乳糖, 山梨醇,大豆分離蛋白,麥芽糊精,玉米澱粉,硬脂酸鎂
規格: 1000mg/片 X 100片
產品描述
蝦青素(又稱蝦紅素)是一種高效抗氧化的類胡蘿蔔素,同時具有脂溶性及水溶性抗氧化功能。被冠為『體內的陽傘』的蝦青素其抗氧效力是胡蘿蔔素的10倍、Q10的150倍、維他命E的550倍。蝦青素能維持腦部、神經系統、心血管、皮膚健康。蝦青素同時對眼部健康有益,可幫助促進眼睛血液循環、維持視力清晰。此產品是提取自優質的甲殼類動物,是繁忙都市人極佳的營養及抗氧化補充劑。


建議使用 
以兩片作為膳食補充劑,或遵醫囑。
儲存在乾燥的地方,低於30˚C(86˚F),避免曝露在陽光下。避免兒童接觸。

---
Product Code: NB062
Ingredients: Astaxanthin, Lactose, Sorbitol, Soy Protein Isolate, Maltodextrin, Corn Starch, Magnesium Stearate
Specification: 1000mg/tablet x 100 Tablets
Product Description
Astaxanthin, the reddish pigment found in salmon, trout fish and other seafood, has an amazing range of health benefits due to its antioxidative action. Its free radical scavenging is 150 times stronger than Q10 and 550 times stronger than Vitamin E. Astaxanthin's antioxidant action supports eye health and immunity and keeps joints and muscles healthy. Astaxanthin also promotes healthy cardiovascular health. It also nourishes the body by supplementing nutrients.

NuoWeiKon® Astaxanthin is extracted from the shells of crustaceans through a controlled process which results in a premium source of antioxidant.

Recommended Serving
Take two tablets daily with meal as a dietary supplement, or as directed by your physician.
Store in a cool and dry place. Avoid exposure to sunlight. Keep out of children's reach.