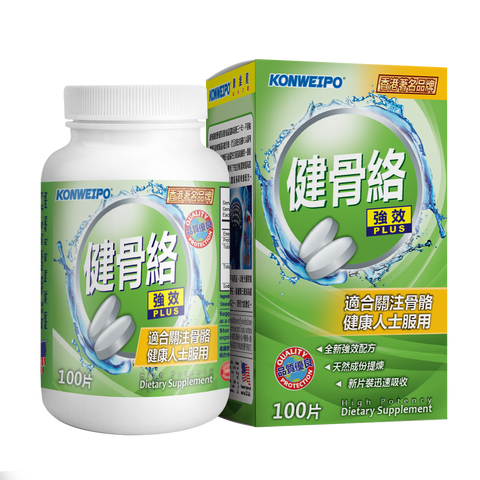 健骨絡 (Bone Strength) 100's
HK$224.00

HK$224.00

Save HK$24
---
---
產品編號: KB235
成份: 碳酸鈣,白沙糖,葡萄糖,檸檬酸,硬脂酸鎂
規格: 190mg/粒 X 100粒
產品描述
鈣質在人體中是極為重要的營養素,對於發育中兒童與青少年之骨骼、牙齒的生長和鞏固。對任何年齡的男女,尤其是婦女的健康具尤其重要。人體每天會流失鈣質,而鈣主要功能是維持神經系統、肌肉、心臟的正常運作。缺乏時會造成骨質流失、腰酸背痛、駝背、失眠、情緒不穩定等。骨質流失的預防方法,最重要的就是確保身體每天能掫取足夠的鈣質。每天服用康維寶健骨絡,補充每日所需的營養物質,預防骨質流失,提高骨骼密度及堅硬度。康維寶健骨絡比一般鈣片更容易被人體吸收,效果更快和更顯著。
建議使用 
以兩粒作為膳食補充劑,或遵醫囑。
儲存在乾燥的地方,低於30˚C(86˚F),避免曝露在陽光下。避免兒童接觸。
---
Product Code: KB235
Ingredients: Calcium Carbonate, White Sugar, Glucose, Citric Acid, Magnesium Stearate
Specification: 190mg/tablet x 100 Tablets
Product Description
Calcium is essential for proper bone development and muscle and heart function. Calcium is involved in more than 300 enzymatic reactions which produce energy. Calcium is also necessary for muscle function. It provide the mechanism for muscle contraction and relaxation, including the heart muscle. Even though most people understand the importance of their body getting enough calcium, only about half of people and even fewer teens get enough calcium in their diet. KonWeiPo's Calcium chewing tablet is scientifically formulated for your daily calcium needs.
Recommended Serving
Take two tablets with meal as a dietary supplement, or as directed by your physician. 
Store in a cool and dry place. Avoid exposure to sunlight. Keep out of children's reach.