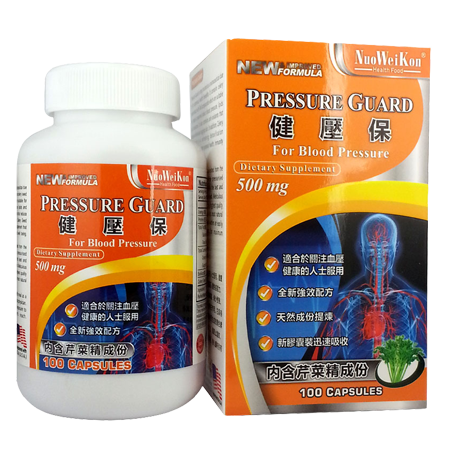 健壓保 (Pressure Guard) 100's
HK$422.00

HK$422.00

Save HK$46
---
---
產品編號: NB056
成份: 芹菜萃取物,明膠,甘油,純化水
規格: 500mg/粒 X 100粒
產品描述
健壓保是針對血壓健康配製的保健食品。健壓保採用優質的芹菜成份,可有助維持正常的血壓。芹菜的種子有助維持正常血液流通與心血管功能。健壓保有豐富的營養,其脂肪酸有助維持腦部的健康。健壓保也有抗氧化成份,有助維持身體的正常運作與皮膚的健康。健壓保利用先進的膠囊科技,讓身體迅速吸收膠囊內的有效成份,達到保健的效果。健壓保是每日補充身體營養素的補充劑,有助維持正常身體功能與血壓。
建議使用 
以兩粒作為膳食補充劑,或遵醫囑。
儲存在乾燥的地方,低於30˚C(86˚F),避免曝露在陽光下。避免兒童接觸。

---
Product Code: NB056
Ingredients: Celery Seed Extract, Gelatin, Glycerol, Purified Water
Specification: 500mg/capsule x 100 Capsules
Product Description
Pressure Guard is formulated from the extract of celery seeds and serves as a support for blood circulation. The active compounds found in celery seeds helps maintain joint and circulatory health. Pressure Guard also contains antioxidants that target free radicals and support skin health. In addition, the fatty acids found in celery seeds help to maintain normal brain function. Pressure Guard is specially formulated for quick release. Its health benefits make it an ideal supplement for supporting wellbeing and nourishing the body. Pressure Guard is formulated from the freshest celery seed. Our unique ultra pressurised extraction process ensures that only the best and purest ingredients are obtained. Meticulous care is taken to ensure that only the highest quality product is delivered in its most natural state. Pressure Guard is sealed within an easily ingestible and absorbable form for maximum goodness.

Recommended Serving
Take two capsules with meal as a dietary supplement, or as directed by your physician.
Store in a cool and dry place. Avoid exposure to sunlight. Keep out of children's reach.